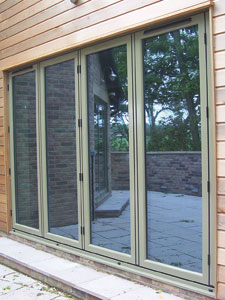 In his regular column for Clearview Magazine, TWR Trade Frames' Managing Director Terry Richardson addresses technical concerns related to bi-folding doors.
In this latest instalment, Terry discusses the environmental and energy efficiency credentials of bi-folding doors in a residential setting; looking at what kind of u-values are realistic for a bi-folding door and what impact a bi-folding door can have on homeowners looking to bring down their fuel bills.
Looking after your environment
Now more than ever, energy efficiency and the environment is a presiding concern for homeowners. Big corporate companies and manufactures are taking this issue seriously and in the glass and glazing sector there is much discussion about the energy efficiency credentials of windows and doors.
Impact of a bi-folding door
But with much of the debate focused on replacement double glazing it's not always clear what impact a bi-folding door installation will have on a home's green credentials.
Naturally, taking down a well-insulated wall in a house and replacing it with a bi-folding door can negatively impact on the heat loss and energy consumption in a household.
But this argument somewhat misses the point. Bi-folding doors are superb lifestyle products that let light flood in, add huge value to a home and are far more attractive than looking at a wall.
The right combination
And they can also improve a home's energy efficiency if the bi-folding door you are installing has the right combination of materials. For example soft coat glass will be better than hard coat glass; with this in mind always look to install a bi-fold with the highest spec glass to maximise its 'green' impact.
The door itself is of course important as well. For example, an aluminium bi-folding door such as Smarts' Visofold 1000 offers really slim sightlines which increases glass space, thus ensuring improved energy efficiency, even more so if the glass is soft-coat.
The Visofold 1000 also incorporates a polyamide thermal break which is important to achieving a low u-value, and when incorporated with a high-spec spacer bar can create a product that offers superb performance for a bi-folding door.
Replacement patio doors
It's also important to consider households that are having a bi-folding door installed as a replacement for a patio or French door.
If a household currently has a draughty patio or French door that was installed in the 1980s or 1990s, the installation of a high-specification bi-folding door, with the features and benefits mentioned above, will make a dramatic impact to the household's energy efficiency and it's important that installers communicate this point to homeowners.
eternAL bi-fold
With the right 'ingredients' a bi-folding door will not just add 'wow' factor to a home but it will ensure it's in tune with the environmental demands of the 21st century. Providing you go for a top specification product.
Here at TWR we manufacture the high-performance Smarts Visofold 1000 which we have re-branded as the eternAL bi-folding door. It achieves a u-value of 1.7 and incorporates all of the latest components to ensure installers have a market-leading aluminium bi-folding door that they can sell to 'green' thinking homeowners with confidence.
Support service
If you have any questions regarding the installation of bi-folding doors please don't hesitate to contact us. We have recently launched a bi-fold support service, where one of our experienced technical team will survey, supply aluminium doors and support on-site; ensuring that all you need to worry about is securing profitable bi-fold business.