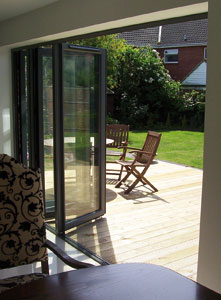 In his regular column for Clearview Magazine, TWR Trade Frames' Managing Director Terry Richardson addresses technical concerns related to the installation of bi-folding doors. In this edition Terry highlights key-points to consider when installing an aluminium bi-folding door in a residential setting.
Can you give me any hints and tips related to installing an aluminium bi-folding door either as a replacement for a patio or French door or from scratch?
In last month's edition of the bi-fold doctor we explored some of the issues related to installing a bi-folding door with a conservatory, covering both PVCu and aluminium doors.
As well as being installed together with a conservatory, bi-folding doors are also commonly being installed as replacements for patio or French doors as homeowners go out with the old and in with the new.
In this month's column we are going to focus on the installation of an aluminium bi-folding door as part of a replacement, or an extension or a conversion, within a residential property.
Here are a few key-points that tradesmen should be aware of before they install an aluminium bi-folding door.
Check and check again
It may seem obvious but it is a problem that we sometimes do come across – mismeasuring or not considering the survey size. Make sure you check and check again the condition, style and size of the bi-folding door both against the findings from the survey and against the aperture size before removing the current door and beginning the work. It will pay to start off on the right footing.
You can't square a circle
Once the area has been surveyed and measured correctly, now onto the installation. Ensuring the door is fitted flush and square, horizontally, vertical front to back and vertical side to side, is vital. The bottom member of the outer-frame also needs to be level and packed regularly to ensure a quality installation.
Not doing so will mean the doors do not operate in a fluid manner. Without getting this part correct you will spend the rest of your time trying to square a circle. Poor installation of an aluminium bi-folding door will result in problems such as call-outs and remedial costs, and it will be near impossible to re-wind the problems with post installation adjustment.
With aluminium bi-folding doors we recommend a through frame fixing method, but not fixed through the thermal break, which in this instance is superior to installing with a fixing cleat.
Regarding the hinges and rollers – these are usually fitted in the correct position and should not be adjusted from the factory settings. Any need to adjust the door upwards or downwards could be as a result of the glass being packed incorrectly.
Post-installation
Following the above points above should help to minimise any issues. In next month's column we will go through some key-points to consider post-installation. For example, ensuring drainage paths are clear and perimeter joints are sealed are both vital to maintaining optimal performance of the bi-fold and making sure you don't have to deal with dreaded call-outs from unhappy homeowners.
If you any questions regarding the installation of an aluminium bi-folding door don't hesitate to contact us.  At TWR, our technical support team provide specific advice for each installation depending on the size and complexity of the project, along with practical fitting instructions and a 'do's and don'ts' sheet.
We even offer an in-house bi-fold training scheme to ensure installers don't miss out on this lucrative opportunity, and a local builders survey, supply and fit service so all that tradesman need to worry about is  benefitting from the lucrative installations.