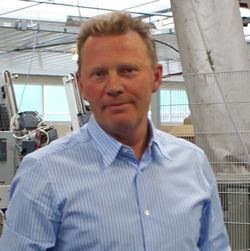 The North East's number one Kommerling fabricator TWR Trade Frames has reported a considerable increase in demand for its energy-efficient frames in recent months.
TWR manufacture and supply the five chambered C70 and 070 Kommerling Gold systems and Managing Director Terry Richardson has said that the premium quality of its Kommerling windows is contributing to the upturn in demand.
"Thanks to the Kommerling profile's exceptional thermal performance we can manufacture an 'A' rated window using a low specification sealed unit, and without the need for expensive thermal inserts – giving installers considerable savings on their glass bills and providing an attractive incentive to price themselves more competitively.
"With the economic conditions as uncertain as they are, installers are telling us that they're looking for premium quality products with added value – market-leading products that can help them stand.
"We've actually coined a phrase here – better products, better for the environment and better for your wallet with TWR."
TWR Trade Frames' C70 and 070 Kommerling Gold systems are manufactured using Greenline – an exclusive lead-free PVCu compound, which alongside the five-chambered system significantly boost environmental credentials.
"Energy efficiency is a big driver in the market and it is firmly on the radar of consumer's thanks to environmental issues and rising fuel bills. Our product range is geared up to help installers meet this demand. We also offer a bespoke and well-renowned customer service package which supports the installer completely and works with them to resolve any installation or technical issues." Terry concludes.