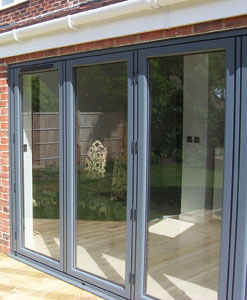 For the bi-fold doctor Terry Richardson's latest column he discusses the buoyant aluminium sector and what installers should look for in a bi-fold supplier.
In this column I usually discuss technical issues related to bi-folding doors such as solving installation problems, what u-values you can achieve with a bi-folding door or tips to keep your door looking tip-top during the winter months.
But for May's column I am going to discuss a wider issue related to bi-folds. What should installers look for in a supplier?
A boom product
Because no doubt about it bi-folding doors represent a profitable business opportunity.
But this popularity has meant is a 'flooding' of entrants to the market of manufactures diversifying into making this product and looking to take market share.
More and more companies are beginning to manufacture and supply aluminium and PVCu bi-folding doors and offer installer 'support' packages.
Finding the right supplier
But choosing the wrong supplier can scupper this golden opportunity for installers. Manufacturers who supply cheap, badly made products and offer insufficient technical advice and training are responsible for stunting opportunities in this lucrative growth market.
With this in mind it's worth finding out how long your supplier has been manufacturing bi-folding doors – and what is their level of expertise. There is nothing wrong with new companies entering the market but what will this mean for product quality and turnaround if the necessary infrastructure isn't in place.
Mass producing PVCu vs. crafting aluminium
Especially if you buy in aluminium bi-folding doors – which are incredibly popular due to their aesthetics; increased glass space and inherent strength.
Manufacturing aluminium requires a completely different mind-set to mass producing PVC-u and as such an installer should be looking for an aluminium bifold door supplier that invests in staff training, product development and machinery – it takes time to build up expertise and in this tough climate an installer needs to be sure they're dealing with the very best.
Obviously it's not logical to expect installers to embark on reconnaissance missions across the UK's fabricators but a cursory look into their supplier and an appreciation that 'you get what you pay for' could be the litmus test.
To conclude – authenticity and experience can't be bought but they can be earned, and finding the right supplier is integral to ensuring bi-fold success.