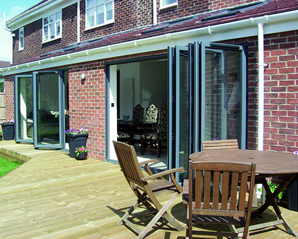 As the end of the tax year approaches, TWR Trades Frames has announced that its aluminium division has increased sales between March 2012 and 2013, compared to the same period the previous year.
Sales were up by an impressive 30 per cent during this period and reflect a buoyant aluminium market in general.
Demand for TWR Trade Frames' eternAL bi-folding door has underpinned the growth, with the launch of its popular bi-fold support service also helping – as Managing Director Terry Richardson explains:
"It's no secret that aluminium windows and doors are experiencing a domestic and commercial renaissance; with bi-folding doors in particular providing a lucrative revenue stream for installers.
"To ensure installers can access this growth market we launched a bi-fold support service last-year, and the combination of our market-leading bi-fold and this support service has undoubtedly driven growth."
The TWR survey, supply and support service will see a member of the fabricator's experienced technical team measure up on-site, manufacture the door, offer technical support and even assist on-site where necessary.
TWR also offer a bi-fold training school where installers and local builders can come to the fabricator's premises and take part in bi-fold workshops.
Terry says that TWR launched the service as a response to lots of enquiries from installers, and local builders, relating to technical questions about the installation of bi-folding doors.
Despite TWR's positive trading figures, Terry did fire a warning shot.
"It's positive to see the aluminium market doing well and naturally we're delighted to be outperforming a really tough market.
"But the more experienced manufacturers, such as TWR, do have some concerns about some in-experienced manufacturers setting up from nowhere and positioning themselves as authentic suppliers over-night.
"We've been fabricating aluminium for over twelve years. It requires a completely different mind-set to mass producing PVC-u frames and mistakes can be made if you lack experience. We would encourage installers to choose suppliers that can demonstrate their experience and not just opt for the cheapest prices."
Earlier this year TWR also announced that it had invested in an in-house powder-coating facility; ensuring that it can now offer its customer's faster lead times on aluminium windows and doors.
TWR manufacture the eternAL aluminium bi-folding door, which is a re-brand of the Smarts Visofold 1000 and 4000 series. It provides excellent thermal efficiency, high-spec security features and super-slim sightlines.