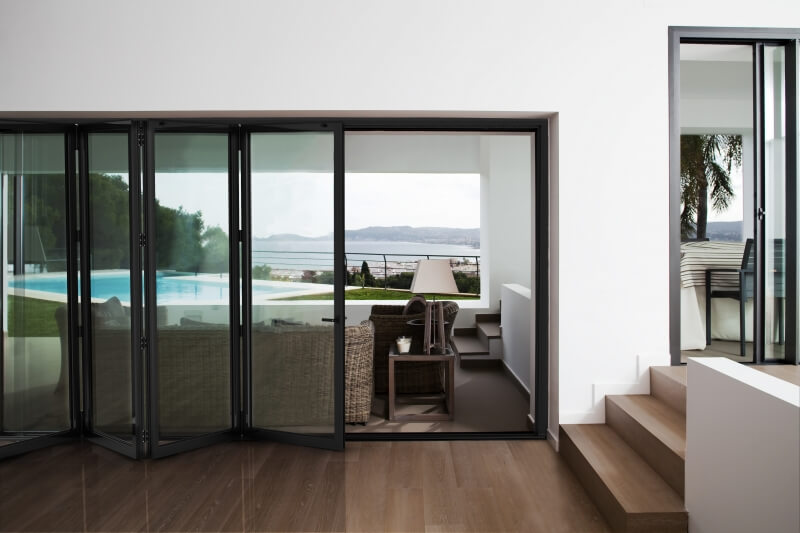 Summer's here, the season of the great outdoors is on us and homeowners who have installed bifold doors are enjoying the benefits of being able to open their living space to sunshine and fresh air.
In recent years the popularity of the bi-fold door has increased hugely. After lockdown, we all seem to be paying more attention to our homes and specifically how we might use our existing space. To be able to leave the kitchen, for example, and serve food outside without having to edge around doors propped up by a chair is just one of the benefits of the bifold door.
For installers, offering a bi-fold option is an excellent idea in a market – commercial and residential –  where demand is high. At this time of year, many potential customers are attending barbecues and parties at houses where bifolding doors are fitted and are seeing for themselves their benefits. In this blog, we'll have a closer look at such benefits while discussing the range of bifold doors we manufacture and supply.
Why are bi-fold doors so popular?
In one word: versatility. On a sunny day, homeowners have no gap between indoors and outdoors, giving the feeling of so much more space in their homes. Bifolding doors allow the entire wall to be opened up, or part of it to control ventilation in a room. When the cooler weather comes and the doors are closed, they have rainproof windows that still let in the maximum amount of light. And the use of bifolding doors isn't restricted to domestic settings. Increasingly, cafes, bars and restaurants are installing them to give their customers a more Mediterranean experience and easy access, with the benefits of being able to close them quickly on cooler days. Aluminium bifold doors, as well as sliding doors and sliding patio doors, have the added benefit of slimmer frames meaning slim sightlines so more natural light is let into the room thanks to the larger glazed area. They are also perfect as part of a conservatory.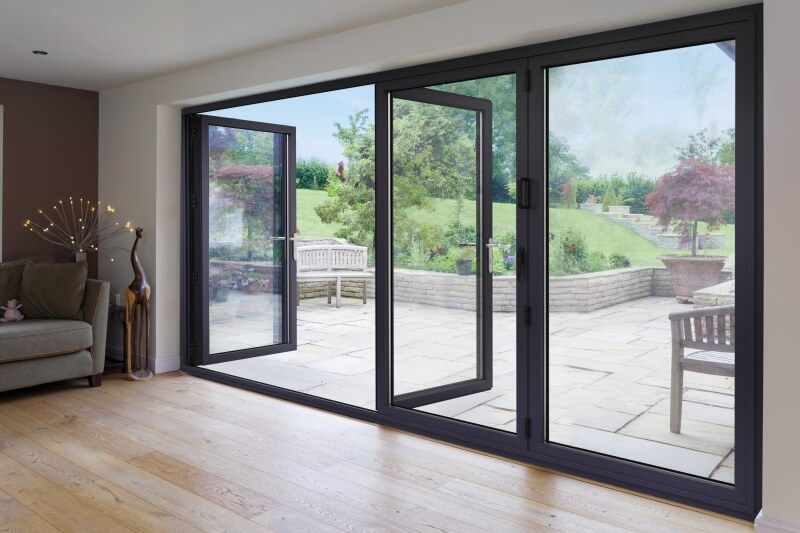 Are there differences between aluminium bi-folds?
We supply the Smarts Visofold and Cortizo bifold doors, and while both ranges work on the same principles there are differences between them.
The Smarts Visofold 1000 is one of the most popular bifold systems in the UK. Thanks to an integrated polyamide thermal break, the Visofold returns a U-value of just 1.5 W/m2K, with a maximum height of 2,500mm and width of 1,200mm, and it features EPDM high-quality gaskets and weather brushes to aid weather resistance.
Recently, we introduced the Smarts Visofold 1000 Slim to the market. This bifold features a 122mm sightline, reduced by 10mm from the standard Visofold 1000, to make the glazed area even larger. Installers will be delighted to know that the new system includes Smart's Quick-Glaze Bead for quicker fitting. You simply just tap the Quick-Glaze Bead in on-site, making installation faster.
Our contemporary aluminium slim Cortizo bifold doors have U-values from 1.1 W/m2K, making them great for thermal efficiency. Again, they're highly flexible, with up to 14 sashes available and the option of having either odd or even numbers, depending on what you need. The Cortizo bi-fold is slightly cheaper than the Visofold and can be three metres high, making it perfect for period properties. They also have an adjustable jam to help with installation.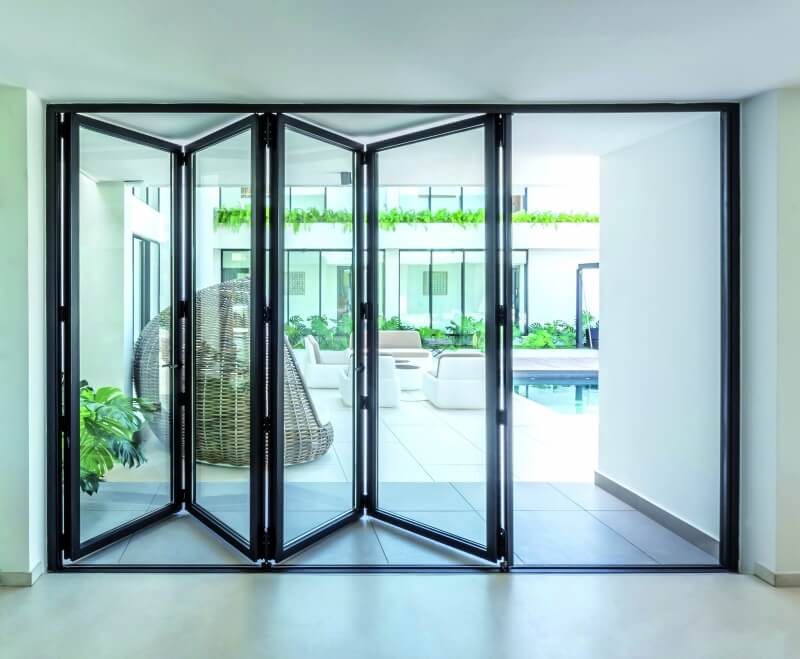 Better with bifolds
There is no doubt that offering aluminium bi-folding doors is a win-win for installers looking to expand their range. They're stylish, lightweight, and their aluminium construction means they're relatively easy to install. They create flexible living spaces with lots of natural light and they're efficient all year round, for both residential and commercial properties.
For more information about our bi-fold doors visit our website or give us a call to discuss on 0191 565 2200.