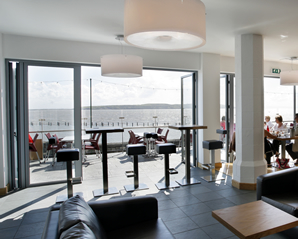 TWR Trade Frames is delighted to announce that it is now officially the number one Smarts supplier in the North East.
TWR Trade Frames has consistently been a big customer for Yatton based Smarts Architectural Aluminium but sustained success over the last year has seen TWR increase its market share significantly in the region to claim top spot.
Driving success has been Smarts' Visofold aluminium bi-folding door, which TWR re-branded as the eternAL bi-folding door, together with marketing support and a comprehensive service package.
Part of this offering has been TWR's popular survey, supply and support service. Designed to help installers and local builders take advantage of the lucrative bi-fold door market; TWR provide technical support, instruction manuals and will even come out on site to measure up and assist.
TWR Trade Frames' Managing Director Terry Richardson comments: "We have a fantastic relationship with Smarts and are delighted to be its number one customer in The North East.
"Their products, such as the bi-fold, are top class and completely in tune with what installers need to win high-margin sales both in the commercial and domestic market."
Smarts' Area Sales Manager Tommy Murray deals with TWR Trade Frames on a regular basis and has witnessed at close quarters the fabricator's success:
"TWR have consistently been a large customer of Smarts and they offer a great service to their customers. Installers in the region and beyond are entering the lucrative bi-fold door market thanks to TWR. They are the company to use if you want to enter this lucrative market of if you're looking for a comprehensive bi-fold support package."
"Ultimately TWR is a very nice and very professional company and its Managing Director Terry is a real gentleman. From a suppliers perspective they are brilliant to deal with and have the infrastructure to push on even further," Tommy concludes.
TWR Trade frames also manufacture and supply the five-chambered C70 and 070 Kommerling Gold systems, which are manufactured using Greenline, and exclusive lead-free PVCu compound