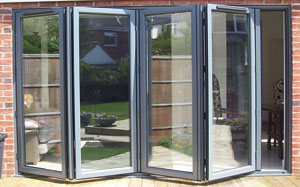 The bi-folding door market is booming – providing huge opportunities for installers. In his regular column for Clearview Magazine, TWR Trade Frames' Managing Director Terry Richardson addresses technical concerns related to the installation of bi-folding doors. In this edition Terry answers some of the recent questions he has received from installers.
What is the maximum size sash you can have on a bi-fold installation?
This is a common question we are asked here at TWR Trade Frames. Some fabricators and systems companies boast that they can supply and install three metre size sashes but as a standard recommendation we suggest a one-metre sized sash is sensible.
Unless they're Spiderman
This is simply because from an installation perspective most people's arms aren't longer than a metre so it can be difficult to reach around and perform the installation.
We've also found that bi-folding doors don't tend to perform optimally when they have a width that is no larger than a metre. From the perspective of a homeowner it may also not be practical to handle a sash that is three metres wide – unless of course they're Spiderman.
Recommended height
In terms of height we would recommend that the maximum size sash you have on a bi-folding door installation should be 2.3 metres. This is of course a typical guideline and you can go higher, subject to having cleared a wind loading check.
To rebate or not to rebate
Another question that seems to be popular at the minute is whether a low-threshold or a rebated look is best. For commercial applications we would always recommend a low-threshold due the nature of the building – say a restaurant.
For domestic bi-folding door installations a rebated look is more practical but a low-threshold is possible, depending on flooring.
If a homeowner has a wooden parquet floor and a low-threshold they may end up with water coming into the room; especially when you consider the weather that we have become accustomed to in the UK.
What you can do is dig a hole before the installation and put in a rebate that is slightly deeper than usual. This will give more of an 'impression' of a low-threshold but still help protect against the elements.
TWR survey, supply and support service
If you have any further questions you would like to ask regarding the installation of bi-folding door don't hesitate to give me a call.
TWR Trade Frames is a family run company with over ten years manufacturing expertise. We also offer a bi-folding door survey, supply and support service where we can measure up on-site, manufacture the door, offer technical support and assist on-site if necessary.
This has proved popular with builders and installers looking to take on profitable aluminium jobs with the backing of an experienced supplier.