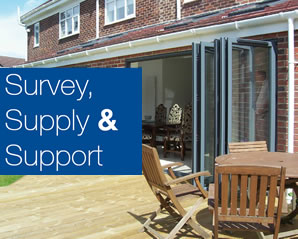 A long-established manufacturer of aluminium and PVC-u windows and doors, TWR has created a bi-folding door survey, supply and fit service. TWR's Managing Director Terry Richardson elaborates: "Bi-folding doors represent a lucrative area of growth in what is a very tough market at the moment.
"But some installers and local builders are not taking full advantage of this growth area because they may be unsure on how to install this product. This is why we have launched a service to tackle this issue head-on."
The TWR survey, supply and support service will see a member of the fabricator's experienced technical team measure up-on-site, manufacture the door, offer any technical support and assist on-site where necessary.
"This service ensures that installers and local builders can take on profitable aluminium jobs with the backing of an experienced local supplier that knows the aluminium bi-folding door market inside out," Terry comments further.
According to Terry, over the last year, TWR has had a number of installers and local builders turn to the fabricator with technical questions regarding installation and general advice on the product, including tips to help maximise sales.
He hopes that by launching this service, more installers will be able to boost profits:
"TWR's survey, supply and support service will help to bridge the gap between tradesmen keen to take on bi-fold installations but are maybe unsure of the exact ins and outs of installing this product. We have an experienced team of technical experts here at TWR and we're delighted to have launched this service which will ensure our customers enjoy the higher margins associated with bi-folds without any hassle," adds Terry.
TWR manufacture the eternAL aluminium bi-folding door which provides excellent thermal efficiency, high-spec security features and super-slim sightlines. The competitively priced product can be powder coated in any RAL colour and is available in a range of styles and configurations to suit both commercial and residential properties.