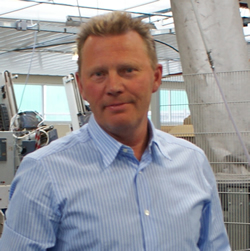 To cope with the increasing popularity of their eternAL bi-folding door, national fabricator TWR Trade Frames has re-modelled its factory to incorporate a fourth aluminium bi-fold production line.
With demand for this product increasing month on month, TWR's Managing Director Terry Richardson believes the decision will greatly benefit the fabricator's expanding customer base: "Due to sustained demand for our eternAL bi-folding door, the need for a fourth production line became a top-priority. We expect the popularity of this product in the commercial and domestic sector to continue and we will now have the resources to turn-around even more orders with minimum hassle."
According to Terry the additional production line will ensure TWR have no operational or supply issues, as the volume of orders continues to increase.
"As well as supplying a market-leading aluminium bi-fold we also want to ensure the service and support we offer isn't compromised by our continued success. This expansion will allow us to increase capacity and maintain the high level of service that our customers have come to expect from us," comments Terry.
The product driving the expansion is TWR's high-performance eternAL bi-fold. Offering excellent thermal efficiency, high-spec security features and super-slim sightlines it is proving a big hit with installers. The competitively priced product can also be powder coated in any RAL colour and is available in a range of styles and configurations to suit both commercial and residential properties.
"It's been an excellent start to the year at TWR and with the popularity of our eternAL bi-folding door showing no sign of decreasing, a fourth production line will ensure we continue to provide both manufacturing excellence and superb customer service," Terry concludes.