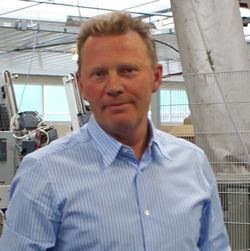 TWR is the North East's number one Kommerling fabricator and manufacture and supply the five chambered C70 and 070 Gold systems; and it is the premium quality of the system that is contributing to the positive sales figures and optimistic forecast at the company.
Managing Director Terry Richardson elaborates: "Fabricating the premium quality Kommerling system has made a noticeable difference during these tough times.
"Due to the excellent thermal efficiency of the frames our installer customers don't need to waste money on expensive sealed units and low iron glass to achieve an 'A' rating."
According to Terry in such a tough trading climate this is allowing installers to price their products more competitively, and increase their profit margins.
"It's a tough trading climate with more people chasing fewer contracts so it's become vital for installers to sell quality products with added value – Kommerling frames have superb green credentials so installers can offer the end-user the very best in performance and attract more profits at the same time."
The C70 and 070 Kommerling Gold systems is manufactured using Greenline, which is an exclusive lead-free PVCu compound, which alongside the five-chambered system significantly boost environmental credentials.
Dave Reay of Kommerling comments on TWR's success: "TWR are a great example of a dynamic fabricator that understands the market. They made the decision to upgrade from a 3 chambered system to a 5 chambered one and they along with their customers, have reaped the rewards."
"Here at TWR we are a forward-thinking fabricator that works hard to ensure our customers have everything they need to thrive in this challenging market and we're delighted to be experiencing success," Terry Concludes.