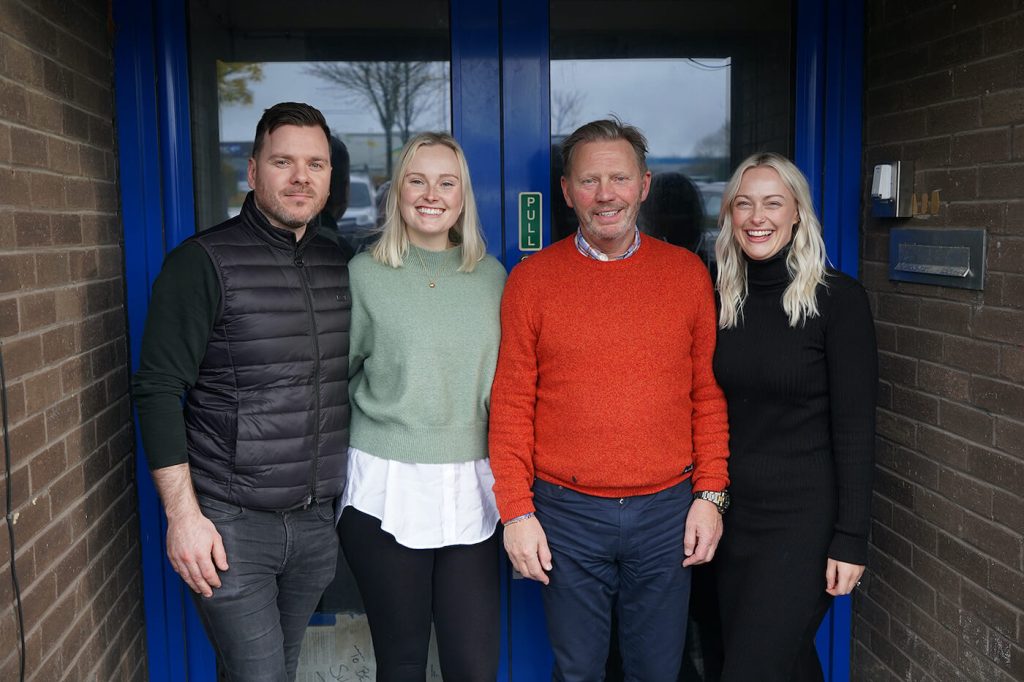 Over two decades at the top of such a competitive industry speaks for itself – and the reasons TWR Group have been out in front are simple according to North East PVCu and aluminium fabricator's managing director Terry Richardson.
The aluminium side of the fenestration industry has grown and changed beyond recognition in the last 10 years. One fabricator who has led the way is TWR Group.
The major PVCu and aluminium fabricator has been supplying installers across the UK since 2001, starting life as a PVCu fabricator before teaming up with leading systems Smarts in 2012 and introducing aluminium bi-folding doors to its product offering, growing to the impressive figure of 100 doors per week in a matter of months.
Over the last two decades, TWR has invested a huge amount of money in new production lines, a powder coating facility, an automated lift and storage system – the first UK based glass and glazing company to do so – its workforce, and two factories, in Sunderland and Peterlee, to provide the highest quality manufacturing and service to customers over the years.
But it was the move into aluminium and the bi-fold market, that saw the North East-based company cement its reputation at the top of the industry.
A winning combination
The TWR Group's name has been synonymous with aluminium and bi-fold doors for the last 10 years and with savvy installers turning to aluminium due to increased demand from the domestic and commercial market, TWR Group's bi-fold customer support service is one of the main reasons the company has had a massive impact on the bi-fold door market.
Terry explained: "We recognised early on that a large percentage of our target market were more accustomed to fitting uPVC windows doors, which is why we decided to offer comprehensive installation and technical support to installers to help those unfamiliar with the aluminium bifold door product we supply.
"It's that combination of high performing, specialist products and second-to-none support that helped our customers capitalise on the lucrative bi-fold market and helped us grow our customer base."
TWR's marketing activity at the time was built around this bifold customer support service, with Terry branding himself as the 'Bi-fold Doctor' in the trade press and on the TWR website.
"We were receiving lots of similar questions from installers, and we thought it would make sense to share our knowledge with the wider industry," said Terry.
"The high level of technical support on offer for installers from TWR hasn't changed and when customers choose TWR Group, they choose experience, quality, and outstanding customer service and support."
Keeping it in the family
Such a comprehensive support package stems from the company's roots as a family-run business, with family man Terry seeing daughters Laura and Helen progress through the business and bring fresh ideas to table is going to provide an important focus over the coming months and years.
To continue that family tradition, Laura's partner James is Operations Manager on the aluminium side of the business.
For Terry, the family side of the business is what positions TWR Group differently to other fabricators.
"My daughters have grown up around the business and they really know it inside out, from operations through to finance, technical and customer account management. I will be relying on Laura and Helen even more as we aim to take the business to the next level while still retaining the excellent level of personal service our customers have come to expect," said Terry.
"It's so important for customers to know the business is going to be in the best hands moving forward and being a proper family-run business has helped us provide a more personal approach. Our focus has always been looking after our customers rather than on price."
An experienced team is another reason why TWR Group has stood the test of time for 21 years, and why the company now has almost 600 aluminium customers and more than 300 on the PVCu side.
"Many of our team have been with us for 17-18 years so we have the quality when it comes to fabrication and we have got the backing from our suppliers too so we can deliver a quality product for a competitive price," said Terry. "It's why we are an experienced supplier and why we continue to grow our customer base."
Looking forward
With plans for a third site in the pipeline, TWR Group has exciting plans from an operational and product perspective moving forward.
"We've recently invested in an IGU line to start making our own insulated glass units, giving us far greater control over our supply chain, and we have some exciting new products in the pipeline, including the Alitherm 400 system from Smarts," added Terry.
"This product range has been designed to comply with the updated thermal requirements of Part L of the building regulations and features a pre-extruded gasket, which will save our customers a significant amount of time when out on site.
"It's all part of our plans to continue our high levels of service to help installers remain competitive in the ever-changing bi-fold market."
TWR supplies the full range of products available through Smart Systems, an aluminium bifold made with the Cortizo aluminium system, and the full range of uPVC products made with the Logik system from Eurocell. For more information, call 0191 565 2200 or email sales@twrgroup.co.uk.