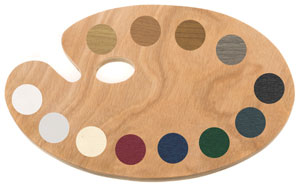 The bi-fold doctor, Terry Richardson, discusses everything bi-fold related in his exclusive column for Clearview Magazine. For February he discusses how installers can use colour to sell the bi-fold dream.
So, 2013 is here and bi-folding doors look set to continue as a very profitable business opportunity. But as this product increases in popularity more and more installers are familiarising themselves with the product and adding it to their armoury.
Unearthing the question, how do you go about offering the end-user something a little different when it comes to bi-folding doors to compete against a competitor offering a similar product?
Colour me this
Colour is one way. For many homeowners standard colours simply aren't that exciting any longer; instead they want an exuberantly coloured bi-folding door that gives their property a bit of va va voom.
Ensuring you have access to an aluminium bifold door supplier who can turn around coloured products quickly is therefore important if you want to have an edge; and selling this added value concept to consumers could make a big difference in the current market.
With this in mind it would be worth finding out if your supplier has invested in in-house colour bonding and powder coating capabilities. If they have it means they will also be able to offer a fast-turnaround on aluminium bi-folding doors for example.
On-site colour bonding
Another area worth exploring is on-site colour bonding. This is relevant where property owners are not replacing their windows but having them re-coloured on-site; essentially they are having new windows and doors without shelling out for them.
Why is this relevant to bi-folding doors? Well if you have just installed a bi-folding door that is a different colour to the existing windows there is an opportunity to up-sell the colour bonding service and communicate to the homeowner that they could have the windows the same colour as their bi-folding door, without needing to splash out on new windows and have them installed.
With this in mind it would be worth finding out if there is a company that offers this service near you.
A colourful 2013
Just like in 2012, teaming up a with forward-thinking fabricator and ensuring you offer added value products and services will be important to ensuring you succeed and out-perform your competitors.
Bi-folding doors remain a profitable business opportunity and together with selling the benefits of colour, even more so.
Here at TWR we manufacture the high-performance Smarts Visofold range which we have re-branded as the eternAL bi-folding door. It is a market-leading aluminium bi-folding door that is virtually maintenance free and is proving incredibly popular with installers across the UK.
Support service
If you have any questions regarding the installation of bi-folding doors please don't hesitate to contact us. We offer a bi-fold support service, where one of our experienced technical team will survey, supply and support on-site; ensuring that all you need to worry about is securing profitable bi-fold business.