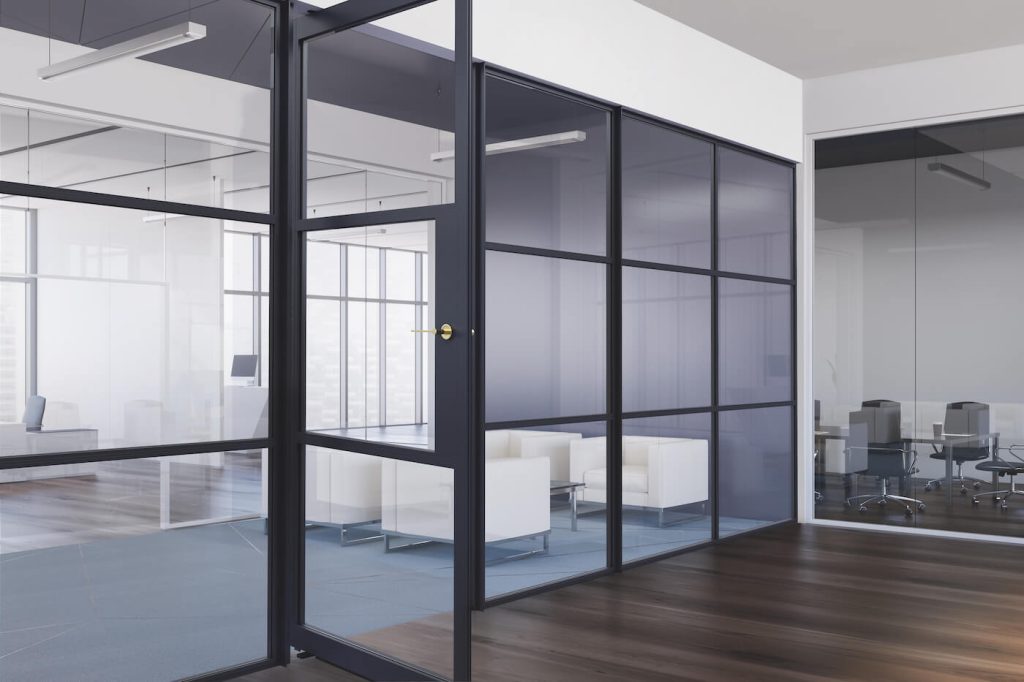 Major PVCu and aluminium fabricator, the TWR Group, has enhanced its portfolio with the introduction of Smart's AluSpace.
The interior steel-look door and screening system has been designed as an alternative to its Alitherm Heritage windows and doors and is normally single glazed, not thermally broken, and can be sprayed any colour to match the interiors, with black as standard.
Developed to create light and airy internal environments, AluSpace can be used to divide residential or commercial spaces of any shape and size, while at the same time providing an effective acoustic barrier and its sleek and elegant lines perfectly complement TWR Group's aluminium window and door ranges.
TWR Group Director Laura Richardson said: "Despite being an exterior system, Smart's Heritage products are widely used internally. AluSpace is a dedicated interior steel look system which effectively divides spaces and creates highly attractive screens and doors.
"It's perfect for commercial environments, offices, homes and old industrial buildings that are being converted into apartments as it will keep that traditional steel, industrial aesthetic. AluSpace is designed to provide a new aluminium solution for those wanting to create the sought-after style, whilst the sleek and elegant lines let light flow from room to room."
AluSpace comes with a choice of hinged single and double doors, as well as pivot and sliding options to accompany the fixed glazed screen. Options also extend to include visible hinges or concealed pivot or sliding mechanisms, enabling the systems to be tailored to meet design styles.
The predominantly single glazed system, with glass available in 6mm, 8mm and 18mm thicknesses, comes with laminated or toughened safety glass as standard.
To add the final additions, there is a wide range of accessories, including a choice of classic, modern and industrial handles.
The family-run, North East based company is looking forward to introducing AluSpace to customers and Laura added: "As AluSpace is a specially designed internal version of Smart's Heritage range, it delivers attractive aesthetics and fantastic value.
"And it means we can offer the best of both to our customers, AluSpace for internal and Heritage for external. Thanks to the similar styling, AluSpace is an excellent complementary system for anyone getting the exterior range. And it's also easy to install, so when you put everything together it's a great addition to our portfolio."
TWR supplies the full range of products available through Smart Systems. For more information, call 0191 565 2200 or email sales@twrgroup.co.uk.