There's no doubt that bifold doors are really having their 'moment' now, and the trend of bringing the outdoors indoors isn't going away any time soon.
The summer months are when bifolds come into their own. Householders who've already had them installed host parties and get-togethers, and it is then when guests go home thinking, 'We could have those in our home…" And with an Indian summer predicted for September, they will continue to be desirable.
Staying ahead of the pack, especially when budgets are tight and householders are watching what they spend, is essential. In an uncertain housing market people are choosing to improve instead of move, and demand for installers who can supply and fit bifold doors is at a premium right now.
The 'on-trend' element around bifolds is just one reason why installers should consider offering them. Here are a few more:
Made of aluminium
Aluminium is a lightweight, eco-friendly material that is also extremely strong and durable. Plus, its strength means that it can offer slim sightlines, allowing a maximum amount of light to flood in.
Great for commercial and residential projects
While bifolds are most often seen in residential properties as a way of really opening up living space, they're also increasingly popular in commercial developments. The lockdown trend for outdoor eating and drinking has continued, with many pubs and restaurants getting into bifolds and opening up a new UK market for them.
Energy-efficient
One of the big selling points of bifolds is their thermal efficiency. Doors like those we offer have U-values as low as 1.5W/m²K, providing excellent thermal insulation, reducing energy consumption and lowering energy bills.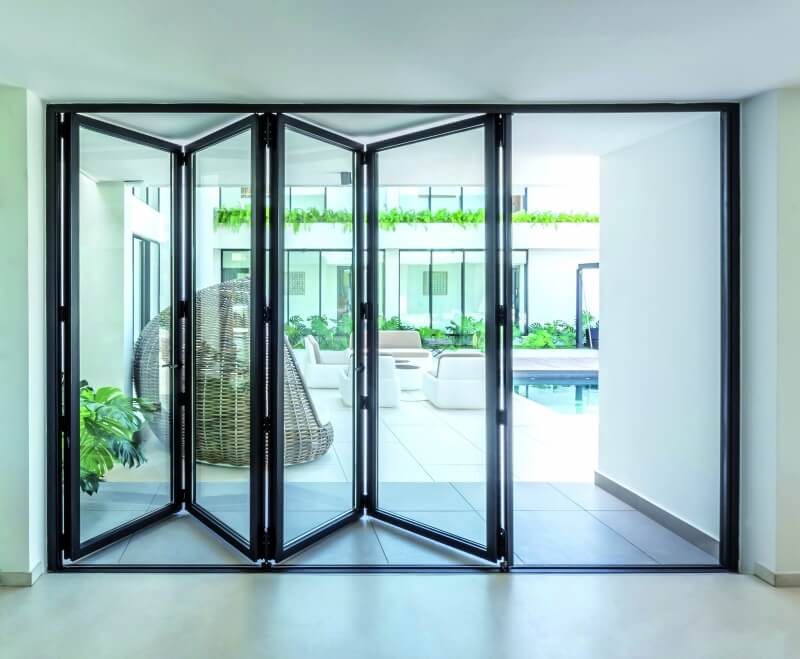 Aesthetic qualities
Bifold doors not only perform well, but they look great too. It would be hard to think of a residential space that wouldn't benefit from a bifold because they come in a variety of designs, finishes and colours, including the popular anthracite grey, to complement any interior. Plus, they can be used as room dividers as well as gateways to outdoor spaces such as gardens and patios, folding to open out an entire wall if desired.
Our range of bifold doors
With these points in mind, let's have a look at the high performance bifold doors we supply. All our offerings are easy to install, have fantastic performance and are backed up by fast lead times and outstanding technical support.
Visofold 1000
This bifold is great for residential and commercial projects and has a U-value of 1.5W/m²K, making it extremely energy-efficient. It is Document L compliant, ensuring it meets the required energy efficiency standards for buildings. The Visofold 1000 also features EPDM high quality gaskets and weather brushes to support weather resistance.
This door is protected by a multi-lock mechanism and shootbolt locking, along with a lift-up handle and adjustable one-piece keep.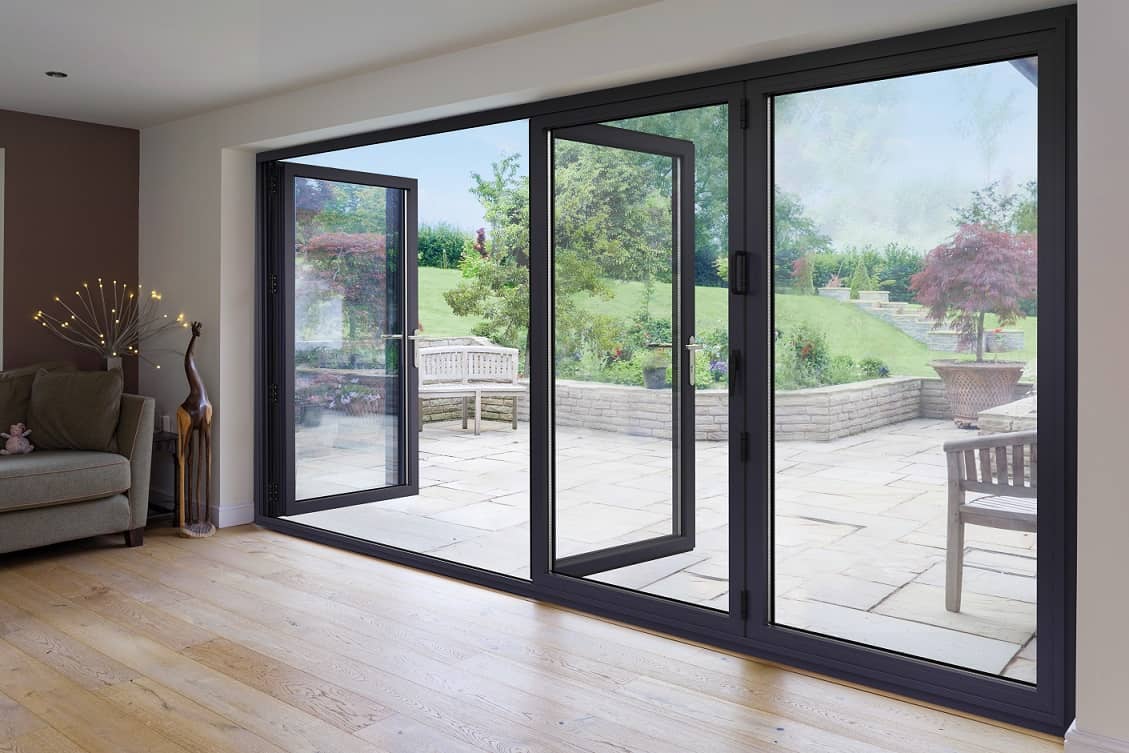 Visofold 1000 Slim
The Visofold 1000 Slim has all the benefits of the Visofold 1000, and includes a 122mm sightline – 10mm smaller than the standard sightline. This slimmer profile makes the glazed area even larger to provide great views and maximum light. The 1000 Slim also features quick-glaze beads specially designed to be easy to remove, making them perfect for retail, and light commercial applications.
This door also offers the choice of a low or rebated threshold, allowing you to select the option that best suits your specific application requirements.
Cortizo bifold
Cortizo's aluminium window and door systems are adjustable to any type of project. Their bifold has a U-value of just 1.1W/m²K, making it one of the lowest on the market. And it has innate flexibility; this bifold can go from a sleek three-panel door to a large, sweeping arrangement, allowing for up to 14 sashes and inward and outward opening.
Whatever your requirements, we have the perfect solution at a competitive price for excellent value. We've been supplying products of the highest quality for more than 20 years and we've acquired a well-deserved reputation for helping our clients hit deadlines thanks to reliable delivery while offering outstanding customer support. Contact us here for more information, or by calling 0191 565 2200.